Biography
Born 28-09-46
1974
Graduated from the Royal Danish Academy of Fine Arts - School of Architecture.
1999-2002
Chairman of the Danish Art Foundation's two committees for music.
1999-2002
Chairman of the board of the Danish Art Foundation.
1969-1974
"CORONARIAS DANS" with bass player Peter Friis Nielsen and drummer Claus Bøje.
1972-1976
"SECRET OYSTER".
1976-1979
"ENTRANCE" with Palle Mikkelborg, Bo Stief, Kasper Winding, Jesper Nehammer.
1981-1992
Music for contemporary ballet (Danish Dance Theatre by Randi Patterson, Warren Spears).
1979-1985
"ANIMA" with Mikkel Nordsø, Cy Nicklin, Michael Friis and Ole Theill.
1985
Recording of Palle Mikkelborg's album "AURA" to- and with Miles Davis.
1986-1988
Trio "Mikkelborg, Knudsen, NHØP".
1989-1996
"BOMBAY HOTEL" with Mikkel Nordsø, acoustic guitars and Ole Theill, tablas.
Since 1990
Music for exhibitions, installations and movies on visual art and architecture.
Has appeared as a pianist, keyboard player and arranger on a large number of recordings by Danish and international groups and solo artists.
Chamber music for string quartet, cello solo, cello and piano, choral music for the vocal ensemble Ars Nova.
Morning Clouds for electric guitar solo.
Music for TV-productions, jingles, title vignettes and feature films.
Since the launch of the Moog synthesizer in the early seventies, Knudsen has been the most significant Danish explorer of the tonal potential of electronic instruments – exclusively, or in combinations with traditional instruments.
Grants & awards
Working scholarships and 3-year scholarship from the Danish Arts Foundation. The Wilhelm Hansen Fondation, Niels Matthiasen's Memorial Award (with NHØP and Palle Mikkelborg). Lifetime Grant from the Danish Arts Foundation 1998.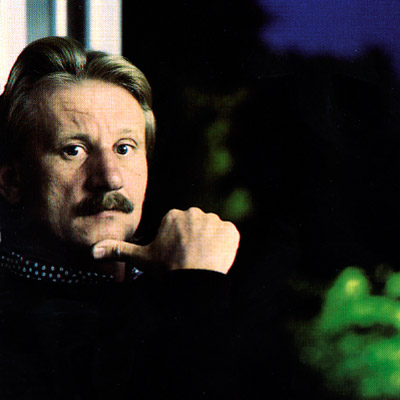 Photo: Stine Heger
Most important releases
(with others)
Coronarias Dans:
Breathe (1971)
Visitor (1976)
Entrance (1977)
NHØP/Kenneth Knudsen:
Pictures (1976)
ANIMA:
ANIMA (KK solo 1979)
Kilgore (1981)
Songs (1983)
Shanghai Circus (1985)
Mikkelborg/Knudsen/NHØP:
Heart to Heart (1987)
Bombay Hotel (1988)
with Ole Theill and Mikkel Nordsø
Bombay Hotel: 'Flower' (1992)



Most important releases
(solo)
I Me Him (1989)
Compacked (1989)
Sounds & Silence (1994)
Music for Eyes (1998)
Light & Metal, music for cello and keyboards (1998)
(Nominated for the Nordic Council's Music Prize 2000)
Black Diamond (2002)
(Nominated for the Nordic Council's Music Prize 2003)
End of Silence (2009)
(Awarded by the Danish Arts Foundation 2009)